Mascots are an integral part of sports events. Their purpose is to entertain, cheerlead, and help taming excitement invoked by a game. A sports mascot must have appeared on the biggest Polish sports tournament: LOTTO EUROVOLLEY POLAND 2017. From 24th August to 3rd September the best sports representations from Old Continent competed for gold in European Championship.
16 teams took part in the tournament; in addition to the opening match at PGE National Stadium, they played 35 games in 4 cities (Gdańsk, Katowice, Kraków, Szczecin). Thousands of sports fans from all over the Europe came to Poland, and not only had they a chance to remember the emotions of volleyball games, beautiful Polish cities and infamous Polish hospitality, but also the Eagle mascot – the symbol of our country. Our national bird reigns in Polish volleyball. This year, to celebrate LOTTO EUROVOLLEY POLAND 2017, the fans got to know its new face.
New mascot introduction is one thing, but making fans like it – it is a totally different thing. Moreover, every 'self-respecting' sports mascot has a name. As an agency supporting Polski Związek Piłki Siatkowej (Polish Volleyball Federation) in its marketing activities in the internet, we bet on the power of crowdsourcing. An activation has been developed, putting the privilege of naming the official event mascot to the hands of the fans.
We organised a two-stage competition via Polska Siatkówka Facebook fanpage, in order to engage over 350 thousand fans gathered around this site. The competition started on 21 July and ended on 31 July 2017.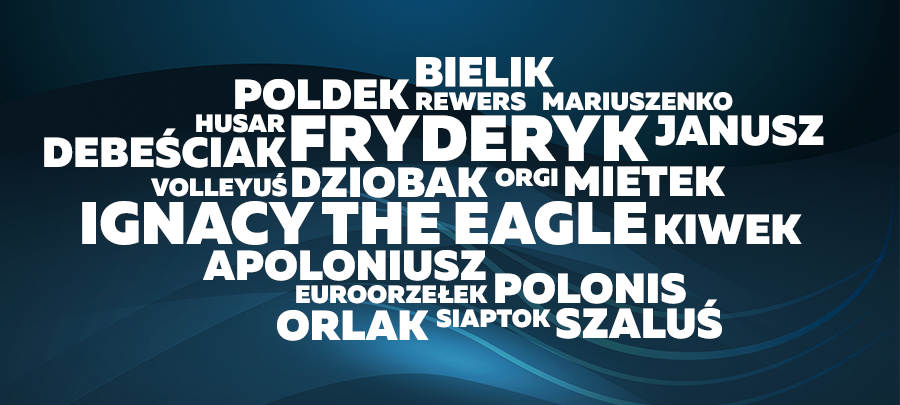 In the first stage, after being introduced to the new image of the Eagle, fans were voting in the interactive survey by making their own proposals of a name along with short commentary. Exciting prizes, such as tickets to the ceremony and the opening match of LOTTO EUROVOLLEY POLAND 2017, T-shirts and volleyballs with players' autographs, were another good reason to take part in the survey. The post with name proposals was supported by an advertising campaign, which boosted the range of the competition.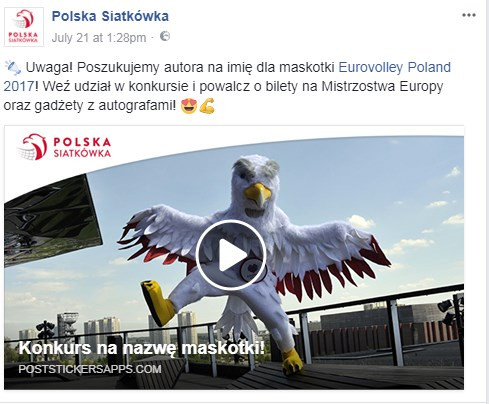 Thanks to that, we received over 180 original name suggestions with commentaries. Appointed committee chose the 5 most interesting of them, and they qualified for the second stage of the competition.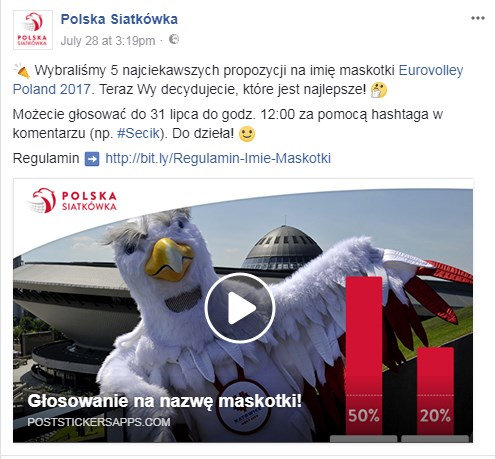 The second stage was about casting a vote in a comment. We used the mechanism of interactive posting, with the feature of voting by using a hashtag. The post was supported by the campaign once again.
The most loyal fans voted as follows:
Złotek 40%
Czempion 24%
Siatek 19%
Secik 12%
Wzlotek 5%
After the vote, we published the results on Facebook. The final choice received a positive response from fans, who now identify more with the championship mascot, thanks to this marketing move.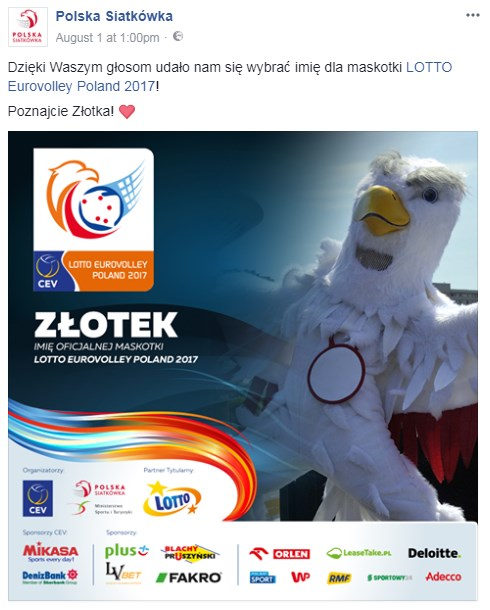 The Eagle has been presented for the first time in the renovated Wisła hall in Kraków.